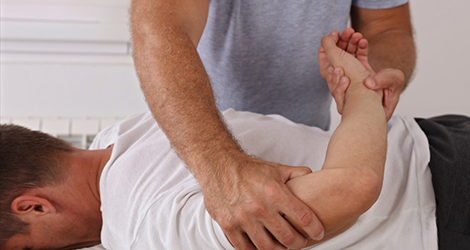 Is your body, muscles and joints aching? If yes, the reason might be a muscle stretch, arthritis, muscle injury, bad posture or sports injury. In case, you are going through any of these health conditions, opting for physiotherapy is the right treatment. It is a joint relaxing technique that involves hands-on care and movement of muscles and joints. By undergoing routine sessions of physiotherapy or as recommended by a physician, a patient can experience quick recovery.
Our Treatment Physiotherapy
At Shoppers World Physiotherapy, we have a team of registered physiotherapists who are committed to help you through your recovery and make your body movement more easy and flexible. From muscle sprain to joint pain,we will work with you to reduce your pain and discomfort. Our custom treatment plan is based on the condition you are suffering from. Upon thorough assessment and diagnosis, we formulate a physiotherapy treatment approach that aims to improve your joint mobility, muscle strength and body wellbeing.We treat the following conditions and more.
Muscle sprain /strain
Back and Neck pain
Osteoarthritis/Rheumatoid arthritis
Sports Injury
Degenerative Disc Disease
Tendonitis
Sciatica /Disc prolapses
Bursitis
Post- Surgery recovery
Trigger Finger
Whiplash injuries
Heel pain/Plantar fasciitis
Work Place injury (WSIB)
Pre and Post pregnancy related pain
Motor Vehicle injury
Stress and Urge incontinence
Osteoporosis/Osteopenia
Scoliosis
Concussion
Postural Dysfunction
Headaches associated with neck pain
Neurological condition
Nerve impingements and injuries
Jaw Pain (TMJ)
Cancer Rehabilitation
Our Procedure
At your very first visit to our clinic, we'll carefully assess your condition to identify the cause of your pain or ailment.
Once the diagnosis is done, we'll start with the treatment to provide relief to your muscles and joints. With an aim to provide our patients with the comfort and ease of movement they deserve, we can actually help in achieving your recovery goal in a quick manner. Our physiotherapy procedures include:
Manual Therapy
Joint Mobilization
Core Activation
Core Stabilization
Cervical / Lumbar Traction
Joint Taping
Inferential Current
Nerve Stimulation
Therapeutic Ultrasound
Class 4 Laser Therapy
Shockwave Therapy
Soft tissue release Technique
Heat and Cold Therapy
Contact Us To Schedule An Appointment!