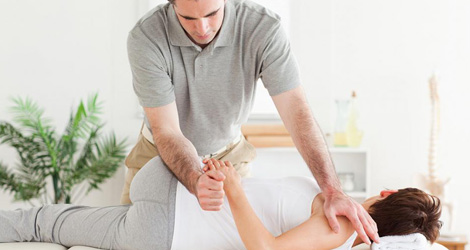 Is your spine or back hurting you while moving or sitting? If yes, the reason may be an unaligned spine or other back related problems. Whatsoever be the reason behind your condition, at Shoppers World Physiotherapy, we are here to help treat your condition with a non-invasive chiropractic care method. This technique is used for easing the ongoing spinal and back pain, thereby improving the joint mobility. It involves a hands-on approach based on the manual adjustment of the back or spine.
Our Treatment
At Shoppers World Physiotherapy, patients trust us for the care they receive from our registered chiropractors. Whether you are struggling with an acute back pain or chronic spinal pain, we follow a personalized treatment plan consisting of chiropractic adjustments and therapeutic exercises to enhance the musculoskeletal movement and mobility.The conditions we treat include:
Neck and Back pain
Stiffness
Headache
Joint pain
Whiplash Injury
Chronic pain
Sciatica
Our Procedure
We know how it feels to live with a constant back pain. It can greatly restrict your back or spinal movement. On your very first visit at Shoppers World Physiotherapy, our chiropractors will begin the treatment with a thorough examination to assess your condition. Once we are able to diagnose your condition and complexity, we'll follow a custom chiropractic care plan formulated especially for you.
Our chiropractors focus more on the rehabilitative care, exercises, and lifestyle changes to help you recover faster. We follow evidence based techniques to ease your chronic and acute pain, including but not limited to:
Heat & ice therapy
Exercise program
Hands-on adjustment
Electrical stimulation
Posture Education
Call Us To Schedule A Treatment Appointment!