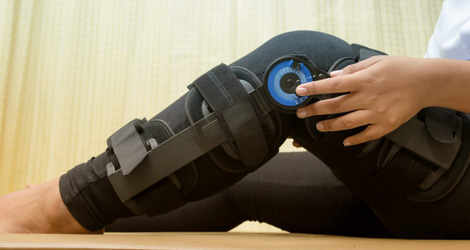 A knee problem can deliver several issues in your regular activities. So, Shoppers World Physiotherapy is here to provide you with the custom knee brace that is a medical appliance designed considering precise measurements of your leg to reduce pain, protect your knee joint and resume activities.
Our's braces correspond with your knee intimately and ensure protection and comfort without any loss of mobility. With us, you can choose three models of knee braces, and these are Vapor, Standard and Pro Sport that come in a variety of options, designs, colour and/or accessories.
Shoppers World Physiotherapy offers custom orthopedic devices and a broad range of products for knee injuries (pre or post surgical) that are used for rehabilitation and pain management. Custom fitted knee braces are designed to help speed recovery and protect the injured area. Custom knee braces are highly recommended following surgery to an area.
It is important that you find a brace that suit your needs. Your severity, body type and activity level are all considerations that should be taken in to account when selecting a brace. Feel free to discuss your needs with us.
What Conditions Can Custom Knee Braces Support?
Several people used to regular exercises and recreational activities such as hiking, gardening, tennis, golf, etc. Shoppers World Physiotherapy fit braces for athletes, preventions, ROM, pre and post surgeries, stability, osteoarthritis and maintenance.
Ligament injuries such as ACL, LCL, PCL, MCL, etc.
Prevent further risk of injury
Knee Instabilities
Osteoarthritis of the knee
Advantages Of Our Custom Made Knee Braces
Ability to customize if required (i.e. alignment, length, etc.)
Less severe injuries
Ideal for longer term use
Immediate and quick fitting
Ideal for sportspersons
Our custom knee braces in Brampton comfortably fit underneath almost all type of clothing such as athletic wear to protect your knee. We help you with the right custom knee bracing that support functioning in your regular activities.
Call Us Today To Schedule A Consultation!