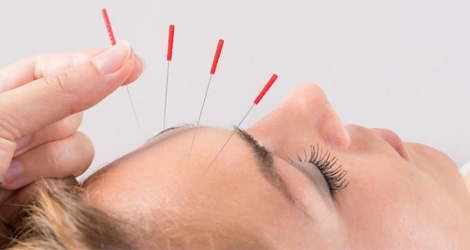 Acupuncture is a form of alternative medicine. Acupuncture when used in combination with other form of treatments, such as physiotherapy, massage and chiropractic care brings out better results. Acupuncture is a traditional Chinese approach that works by triggering the restricted or not so well performing body parts via the inner channels known as meridians, which helps to relieve pain.
Our Treatment
Our trained therapists uses one time use sterilized needles to puncture through the skin with a very minimally invasive method. At Shoppers World Physiotherapy, our trained therapist do a thorough examination and follow a protocol for acupuncture treatment.Some other conditions treated with the help of acupuncture include:
Low Back Pain
Neck Pain
Sciatica
Tennis Elbow
Knee Pain
Shoulder Arthritis
Post-operative Pain
Muscle Sprains
Facial Pain
Headache
Rheumatoid Arthritis
Our Procedure
Being your local acupuncturists in Brampton, our goal is to assist patients in regaining the lost physical and mental health in a natural way. There are a number of acupuncture techniques that can help in achieving a healthy lifestyle and a sound body. At your first visit, we'll evaluate your current condition and the health issues you are facing.
Once we are able to diagnose the reason, we will start with the treatment which basically includes improving the response of nerves in your affected part via the acupuncture approach. Our procedures include:
Traditional acupuncture
Auricular acupuncture
Medical acupuncture
Trigger point acupuncture
Call Us To Schedule An Acupuncture Treatment!