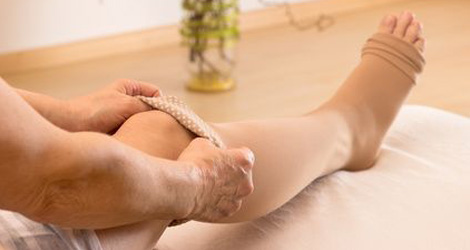 Compression Stockings are used to apply pressure to your lower legs to reduce the discomfort, swelling and maintain blood flow. The compression stockings in Brampton come in a variety of sizes, colors and designs. No matter, it is your medical needs to wear stockings, or you want them to increase your athletic performance, reach out us at Shoppers World Physiotherapy.
The stockings are generally tighter from toes and loosen up of your legs. They help to pump blood from your lower legs to other areas of your body to prevent the symptoms of swelling.
Wearing Stockings Are Beneficial For:
Aching and heavy feeling in legs
Deep Vein Thrombosis (blood clots especially after surgery or injury)
Varicose veins (enlarged veins)
Lymphoedema (swollen up body tissues)
How Do Compression Stockings Work?
The compression stockings put pressure on your legs that push the blood upon the legs and thus, allow the blood to circulate in the body freely. This is why these stockings are most recommended after DVT diagnosis.
To use these stockings, you should put them first thing in the morning when you start to walk around and remove before you get ready to go on the bed. Remember to remove them when you are going to take a shower.
Get Better Circulation
The primary purpose of wearing compression stocking is blood circulation. So, you can wear them virtually for style and to protect your legs. In case, you are prescribed compression stockings considering your specific condition then you may need to wear them for many year or rest of your life if required. Generally, these stockings are used by athletes like runners and basketball players.
Call Us Today To Request An Appointment!